Diplomatic engagement and outreach have become defining features of India's response to the Covid-19 crisis. In addition to providing medical aid and supplies to over 120 partners near and far, New Delhi has been active in multiple bilateral and multilateral forums, indicating a strategy that looks beyond the current pandemic, with humanitarian assistance and disaster relief at the epicenter. As many parts of the world are bracing for the double effects of Covid-19 and climate-induced extreme weather events — India itself is dealing with the aftermath of Cyclone Amphan — New Delhi's two-pronged approach may be a ready toolkit to ameliorate the impact.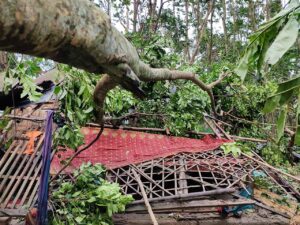 India's template to place climate-related diplomatic and humanitarian relief efforts at the center of its geopolitical ambit already exists. The country's two signature multilateral initiatives under Prime Minister Narendra Modi, the International Solar Alliance (ISA) and the Coalition for Disaster Resilient Infrastructure (CDRI), are the first to be headquartered in India and embody both of these elements. With sustained focus, they could become key mechanisms to mobilize finance for developing countries and enable capacity-building and greater energy access in a sustainable way.
ISA, conceptualized as a platform for catalyzing cheap clean energy transitions and technology transfers among the countries that lie between the Tropics of Cancer and Capricorn, was opened up for membership to all U.N. member countries in 2018. Following this internationalization, ISA now has 67 members including key Indian neighbors like Bangladesh, Myanmar, and Sri Lanka, as well as the United Arab Emirates, Saudi Arabia, and over 30 countries from Africa.
CDRI was launched in September 2019 as an international partnership aimed at mitigating the impact of extreme climate events and other disasters by developing resilience in ecological, social, and economic infrastructure through knowledge transfers, technical support, and capacity-building. With support from the U.N. Office of Disaster Relief Reduction, World Bank, Green Climate Fund, and its 12 founding members including Japan, Australia, and the U.K., CDRI is poised to expand partnerships with U.N. agencies, multilateral banks, and the private sector.
By focusing on climate diplomacy, energy access, resilience, and disaster relief, especially in developing countries, ISA and CDRI can be instrumental in bridging key gaps in global climate action. One such challenge is that collective climate action has lost momentum in the recent years, especially among the highest-emitting nations. In addition to the U.S. retreating from the Paris Agreement, the 2019 U.N. Conference of Parties meeting (COP25) showed that key emitters will continue to put individual interests ahead of collective action, with primarily small island nations pushing for enhanced climate ambitions and bigger, bolder action.
India, too, did not have a breakthrough at COP25, but has made some major strides in renewable energy growth and, according to some pre-Covid-19 estimates, is on track to meet its emissions targets under the Paris Agreement. While there is certainly space to embolden its ambition, and not lose momentum in post-pandemic economic recovery, India's recent diplomatic engagement could signal that the country's leadership is moving toward adopting a collaborative approach driven by India-led climate diplomacy.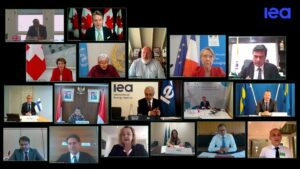 During the Covid-19 pandemic, India has joined an International Energy Agency-led meeting of global energy ministers to discuss the role of clean energy economic recovery planning; regularly engaged with the Quad Plus (the U.S., South Korea, Vietnam, Australia, Japan, and New Zealand) to pool resources and coordinate responses; and joined the Alliance for Multilateralism meeting to declare support for the World Health Organization, the U.N., and other international and regional organizations. India has thus shown significant willingness to lead and join small, targeted coalitions and charted the course for ISA and CDRI to serve as springboards for rallying collaborative climate action.
Promoting alliances and partnerships based on renewable energy technologies could, therefore, shape the contours of India's climate leadership. It is reported that the Indian government is taking steps to roll out the ambitious One Sun One World One Grid project aimed at global grid interconnections to share solar and other renewable energy  through a phased approach starting with India, the Middle East, and South and South East Asia, followed by Africa and the rest of the world. This announcement comes just days after a reported boost to the potential establishment of a World Solar Bank under ISA, which could expedite solar projects in member countries and cement ISA's significance as an instrument for mobilizing finance. Moreover, the fact that Prime Minister Modi highlighted ISA and CDRI at the recent Non-Aligned Movement summit suggests that these two India-led initiatives will likely receive a larger role in the country's strategic calculus.
India's efforts to enable affordable and clean energy transitions is timely because the Covid-19 pandemic has thrown a spotlight on the intersections between climate and public health. Renewable energy technologies can play a critical role in expanding energy access, powering medical facilities, and facilitating greater access to healthcare. Past innovations like "solar suitcases" — first deployed in Nigeria to counter high maternal mortality and since then supplied to 27 countries — and solar-powered boat clinics in Assam demonstrate the potential of renewables to save lives, build resilience, and reduce carbon emissions. Initiatives like ISA, with an overarching goal of mobilizing $1 trillion by 2030, can not only facilitate greater innovations but also be the key platform for their deployment and transfer to countries most lacking in access to energy.
Covid-19 has tested the resilience of existing health, energy, and transport infrastructures and compelled a re-imagining of social norms and economic contracts. Building advanced, sustainable, and resilient infrastructure that can adequately respond to disasters like Covid-19 and those brought on by climate is not only urgent, but requires innovative, immediate, and immense global effort. India's climate diplomacy channeled through CDRI, ISA, and other such means could prove to be important cogs in giving momentum to this giant wheel.