Collaboration is in our DNA
Climate action requires unprecedented collaboration between governments, the private sector, and civil society.
Empowering climate funders
Built to serve results-driven philanthropy, ClimateWorks leads collaborations that enable funders to strategize, learn, and execute new and existing climate initiatives. Our suite of best-in-class collaborations empowers climate funders to increase individual and collective impact.
We facilitate a wide range of international collaborations designed to build high-trust relationships, create strategic alignment, and facilitate coordinated actions across the climate philanthropy ecosystem, including funders, grantees, and other climate leaders. As part of our commitment to excellence, we provide consistent, high-quality support for all of our collaborations.
Our staff are expert at designing and nurturing high-trust environments in order to ensure each collaboration we support achieves its desired result. In addition to the numerous established philanthropic collaborations we facilitate, we also provide early-stage support to emerging collaborations designed to enable philanthropy to deliver big climate results.
Funder forums
Our funder forums are high-trust communities where leading climate funders share ideas, build relationships, and strategize together.
One example is the Funders Table, which is an informal collaboration of not-for-profit foundations dedicated to climate change mitigation. Facilitated by the ClimateWorks Foundation, the Funders Table is a way for these organizations to learn from and work more closely with one another. The group examines climate trends, discusses climate mitigation opportunities, shares lessons learned, and thinks through how funders can best support the grantee community. The Funders Table is not a decision-making body; rather, its purpose is to improve the impact of participating foundations through dialogue and collaboration, as they seek to prevent dangerous climate change and help create a more prosperous future for all.
ClimateWorks Global Collaborations Examples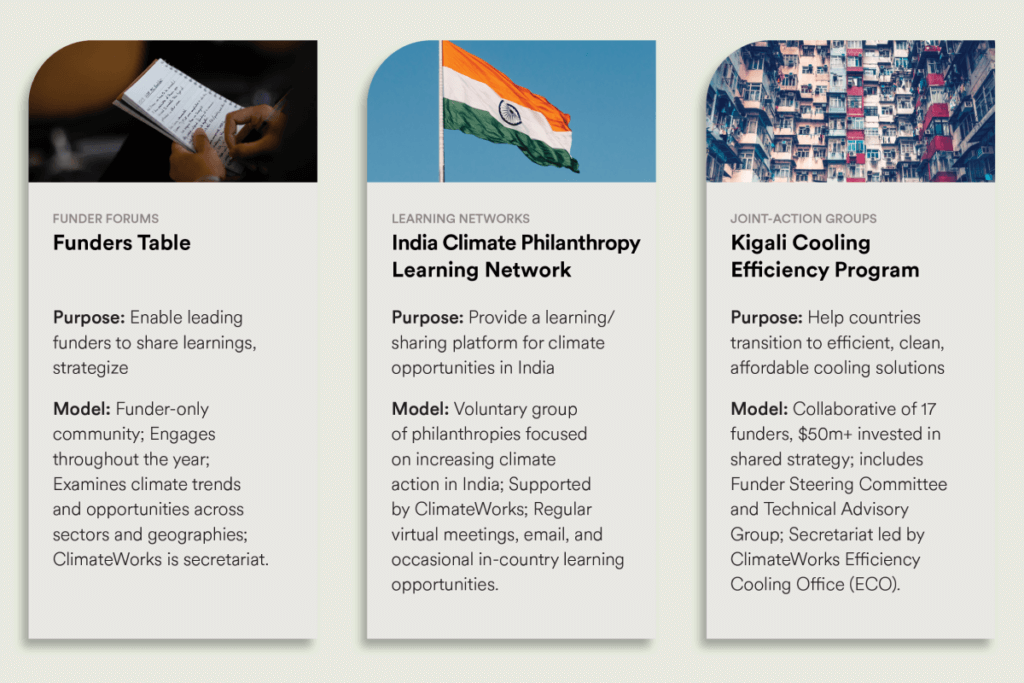 Learning networks
Our learning networks bring funders together to explore specific regional and sectoral strategies and learn together.
Regionally focused learning networks cover a range of geographies, including climate philanthropy in Africa, Brazil, China, and India.
Topical learning networks include collaboration groups focused on issues that are critical to reducing greenhouse gas emissions, including food and agriculture, governance and diplomacy, and the social and economic transition to a low-carbon economy.
Joint action groups
Our joint-action groups are coalitions of funders, often working closely with the NGO community, to advance specific shared strategies and drive climate outcomes.
Established joint action groups include the Climate and Land Use Alliance (CLUA) and the Clean Cooling Collaborative, as well as collaborations focused on advancing carbon dioxide removal solutions and accelerating the global transition to electric drive vehicles.
We also have several emerging joint action groups that cover a range of programmatic action areas, including aviation, finance, industry, and super pollutants.