All Resources
State of climate action: Assessing progress toward 2030 and 2050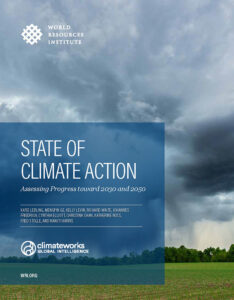 In order to effectively combat the climate crisis, it is crucial to understand the areas where the world is effectively reducing greenhouse gas emissions and where it is lagging behind key benchmarks. A new report co-published by the World Resources Institute and ClimateWorks Foundation takes stock of global progress toward the goals of the Paris Climate Agreement, identifying which sectors and geographies are on track to achieve necessary emissions reductions as well as the areas where efforts need to be accelerated in the coming years.
While funding for climate solutions has increased significantly in recent years across the public, private, and philanthropic sectors, the report finds that it is still not at the scale needed to revolutionize the global economy and protect the climate in the long term. By shedding light on where climate change mitigation efforts stand today, the report helps philanthropy to:
Learn about some of the most effective, large-scale climate change mitigation initiatives happening now.
Identify key opportunities to adapt and apply the most effective strategies, develop new initiatives, and ramp up funding to areas of need.
Learn more
Contact us to learn more about climate change mitigation opportunities, funding trends, and climate strategy development.
Published November 19, 2020
Downloads