All Resources
An explainer on Just Transition in climate governance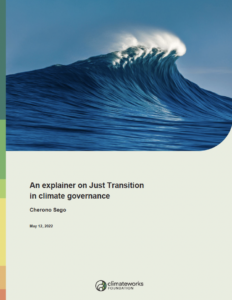 The 2015 Paris Climate Conference paved the way for a series of transitions toward a low-carbon, climate resilient economy in countries and across regions around the world. A key guiding principle in the implementation of the Agreement is the principle of Just Transition, which urges countries to "take into account the imperatives of a just transition of the workforce and the creation of decent work and quality jobs in accordance with nationally defined development priorities." (UNFCCC Paris Agreement, 2015).
There is emerging consensus that this loose preambulatory definition of Just Transition is inadequate. Researchers and policy makers globally are beginning to advance the initial framing of Just Transition in the Paris Agreement in ways that make it fit for the purpose in guiding climate transitions across countries and economic sectors. To achieve the three global goals of the Paris Agreement, governments and partners must confront the challenging political economy of climate transitions and the lack of a comprehensive global approach to the management of natural resources in a new climate economy.
To shed light on the political economy of Just Transition, this working paper explores the historical development of the concept of Just Transition in the multilateral process and outlines recent developments on Just Transition agreements under the Framework Convention on Climate Change.
Published June 13, 2022
Downloads
Authors