All Resources
ClimateWorks' 2021 Annual Report: Meeting the Challenge of a Decisive Decade for Climate Action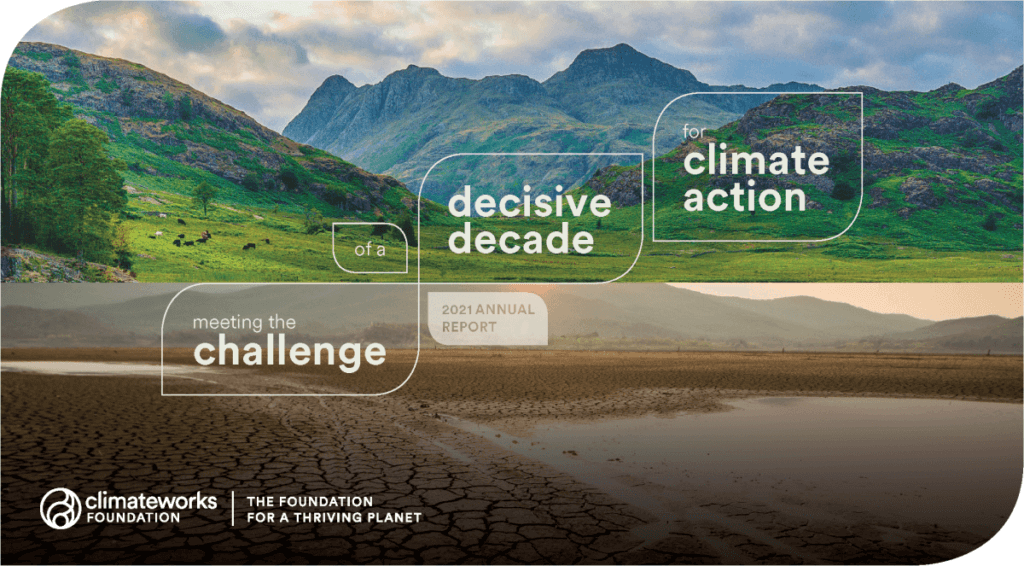 Despite Covid-19 continuing to devastate people and communities everywhere, there was important momentum in 2021 on climate. COP26 yielded many ambitious commitments to curb methane emissions, halt and reverse forest loss, align the finance sector with net-zero goals, and accelerate the transition to zero-emission vehicles. Cities, states, corporates, and countries announced new net-zero targets. The costs of renewables, battery storage, and other clean solutions continued to plummet. The global phase-out of coal marched on. The tireless work of ClimateWorks' grantees and partners helped contribute to this notable momentum.
Even with this progress, we are still off track for a 1.5° C future. If all of these new net-zero commitments are fully met, we could be on a pathway to limit average temperature increases to around 2° C. But current policies and investments to implement them still fall dangerously short, putting the world on pace for around 2.7° C of warming by 2100. Major developments in the first half of 2022 – including the Russian invasion of Ukraine, rising inflation, the growing energy and food crises, and political challenges in various countries – make implementation of existing commitments even more difficult.
The urgency to act, especially in these difficult times, is clear. But the steps we took in 2021 created fundamental progress that we will build on in the years to come to support humanity in charting a more sustainable and just course. ClimateWorks stands ready to work with our funders, grantees, and partners to accelerate action ahead, building on the progress we made in 2021.