All Resources
Report: In Sharp Reversal, Climate Giving Flat in 2022
After years of growth, philanthropic funding to mitigate climate change remained unchanged in 2022 and still falls far short of the scale required for the global crisis
Key Highlights
Total philanthropic giving by individuals and foundations – essentially unchanged from 2021 – reached an estimated $811 billion in 2022, of which $7.8 billion to $12.8 billion was directed to mitigate climate change.
Total philanthropic funding for climate by individuals and foundations also remained unchanged between 2021 and 2022, a sharp contrast to the 25% increase between 2020 and 2021.
While overall climate funding was flat, foundation funding for climate increased by 12% between 2021 and 2022 — significantly slower growth than the 45% increase in the previous year.
In 2022, the top-funded sectors were clean electricity (11%), forests (9%), and food and agriculture (8%). Public engagement was the top-funded enabling strategy.
Philanthropic funding for climate action in emerging and developing economies increased, but over 60% of country or region-specific funding continues to go to the U.S., Canada, and Europe.
SAN FRANCISCO – November 1, 2023 – After record giving in 2021, philanthropic funding to slow climate change was stagnant from 2021 and 2022, with foundations and individuals giving an estimated $7.8 billion to $12.8 billion in 2022, according to the 2023 Funding Trends Report by ClimateWorks Foundation.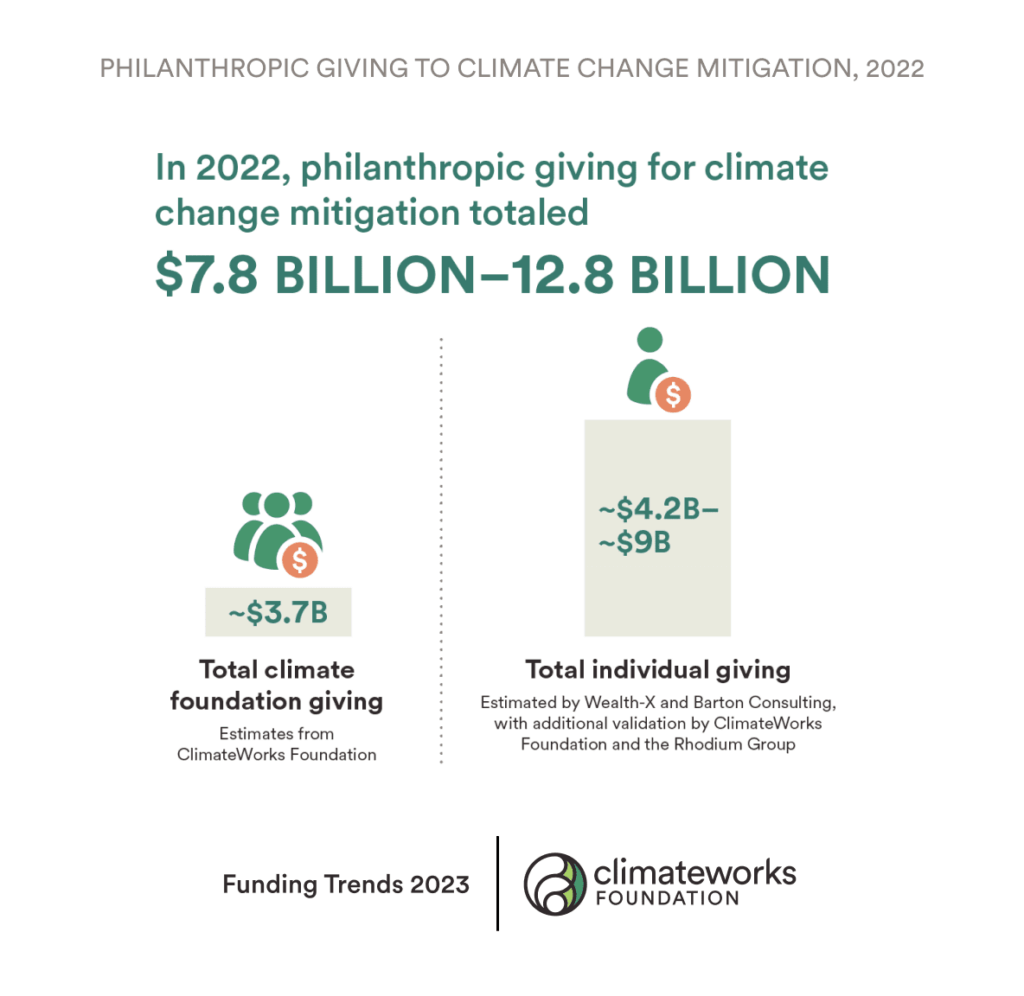 The report tracks philanthropic giving across sectors and geographies and highlights funding gaps for climate action. The 2023 analysis reveals a disappointing picture of climate philanthropy during a year of record-breaking temperatures and a surge in climate-related disasters that hit communities worldwide through heatwaves, floods, droughts, wildfires, and more. In the face of a challenging global economy, overall climate giving stayed flat, due in part to a 12% increase in foundation funding. However, climate giving still accounts for less than 2% of overall philanthropic contributions.
"This report should be a wake-up call for philanthropy," said Helen Mountford, president and CEO of ClimateWorks Foundation. "The intensifying climate crisis demands greater ambition, scale, and urgency to safeguard lives. There has been meaningful climate progress, but maintaining the status quo is not enough, and that includes philanthropy. Now is the moment for philanthropy to move more funds, faster, to the places that need them, and work with a wider range of partners from government, to business, to civil society and communities, to advance transformative and equitable climate solutions."
Foundation funding trends
Foundation funding to mitigate climate change has consistently increased since ClimateWorks began tracking data, from $900 million in 2015 to $3.7 billion in 2022. In 2022, foundation funding increased 12% year-over-year, a slowdown from previous years when funding grew by an annual average of 18% from 2015 to 2019 and accelerated to 34% in 2020 and 45% in 2021.
"The broader economic trends that slowed overall philanthropic giving last year – decrease in global growth, inflation, declining stock market performances – also impacted foundation giving. Despite these challenges, foundation giving grew in 2022, albeit at a much slower rate than previously. The fluctuations from year to year also show why multi-year grants are so important. They provide stable support to the field, especially when times get tough," said report author Helene Desanlis, director of climate philanthropy, Global Intelligence, ClimateWorks Foundation.
Sectoral and regional giving
The report captures the flow of foundation funding across 12 regions and 16 sectors and strategies. Foundation funding spanning multiple regions received the most funding in 2022 – over $1 billion or more than 30% of overall foundation funding to mitigate climate change. Over 60% of foundation funding directed to a single country or region went to the United States and Canada ($955 million) and Europe ($475 million) alone. The fastest-growing regions in 2022 were Africa (+38%), India (+37%), and Latin America (+15%).
The three sectors that received the most funding in 2022 were the same as in 2021 – clean electricity (11%), forests (9%), and food and agriculture (8%). The sectors with the fastest funding growth between 2021 and 2022 were super pollutants (+60%), transportation (+24%), and industry (+24%). Despite this growth, each of the fast-growth sectors received less than 4% of total foundation funding for climate change mitigation.
New collaborative initiatives like the Global Methane Hub were crucial to increasing funding for efforts to reduce super-pollutant emissions, which can provide significant near-term climate benefits because methane has more than 80 times the warming power of carbon dioxide over the first 20 years after it reaches the atmosphere.
"Collaboration is the heartbeat of effective climate solutions that amplify impact and transcend individual efforts," said Marcelo Mena, CEO, Global Methane Hub. "Philanthropic efforts are critical to driving ambitious collective climate action in pivotal sectors to create massive benefits for people and the planet. Quickly mitigating methane would be like hitting the emergency break on global warming. Methane is the quickest way to decrease the temperature to buy time to address other dangerous pollutants."
Climate philanthropy spotlights
The report spotlights climate giving trends in Africa and select sectors: maritime shipping, the built environment, corporate accountability, and minerals. Key findings include:
Between 2018 and 2022, foundation funding to mitigate climate change in Africa more than tripled, yet still represents only 6% of foundation funding for climate in 2022.
The tide is turning for shipping, a neglected sector in climate action. As awareness of shipping's climate impacts and the opportunities to reduce emissions grows, funder interest has also increased. From 2018 to 2022, foundation giving to the sector more than tripled, reaching $16 million in 2022.
Funding to the building and construction sector, which accounts for around 37% of global energy- and process-related CO₂ emissions, grew from $65 million in 2018 to $155 million in 2022, increasing by almost 20% between 2021 and 2022 alone.
Funding for corporate accountability efforts has steadily increased in recent years, representing 4% of foundation giving to mitigate climate change in 2022.
As the clean energy transition drives new demand for minerals used in EVs, solar panels, wind turbines, and more, foundations allocated about $35 million in 2022 to this emerging area of philanthropic engagement.
"There is a persistent disconnect between the disproportionate impacts of climate change in Africa and the lack of sufficient philanthropic investments to advance climate-positive development on the continent," said Saliem Fakir, executive director, the African Climate Foundation. "Philanthropic capital is essential because it can spark rapid investment, strong partnerships, and place-based solutions to unlock new opportunities for development and help transform African economies at a systems level, creating real benefits for the people and communities being impacted by climate change."
View ClimateWorks 2023 Funding Trends Report.
---
About ClimateWorks Foundation
ClimateWorks Foundation is a global platform for philanthropy to innovate and scale high-impact climate solutions that benefit people and the planet. We deliver global programs and services that equip philanthropy with the knowledge, networks, and solutions to drive climate progress for a more sustainable and equitable future. Since 2008, ClimateWorks has granted over $1.7 billion to more than 750 grantees in over 50 countries.

Media Contact: ClimateWorks Foundation: Jennifer Rigney, jennifer.rigney@climateworks.org
Published November 1, 2023
Media Contact