November 8, 5-7 pm GMT — online and in-person
COP26 is intended to close a chapter on international climate negotiations as Paris Agreement rules are finalized. At the same time, with the climate crisis deepening and calls for justice and equity increasing, many initiatives are bringing new thinking to arrangements that complement the Agreement. For example, with the Global Stocktake kicking off, it is a moment for reflection about how the UNFCCC and implementation of the Paris Agreement are evolving.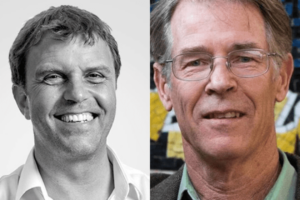 Taking the long view, there is a gap between where we are headed and where we need to be in 50 or 100 years. Those time spans can be modeled but are hard to contemplate at ground level. Now is the time to understand and plan for what climate politics may look like over the coming decades and how the drive for a just transition could play out against the backdrop of shifting geopolitics and more severe climate impacts. 
To help unpack some of these topics, we invite you to hear from two speakers applying their considerable skills at organizing for action and reimagining the potential of governance to address the climate emergency. Nigel Topping, COP26 Climate Champion, is leading efforts to get influential players in the real economy to shift to net zero and complement government action. Kim Stanley Robinson is a bestselling author of speculative fiction whose books have probed the realities of a future living with climate change, as well as exploring the ways in which society may tackle emissions and adapt.
Published October 20, 2021
Event Details