Published September 24, 2020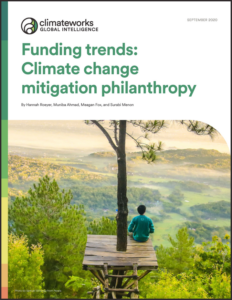 We're excited to share our new brief tracking philanthropic funding for climate change mitigation, Funding trends: Climate change mitigation philanthropy. This latest ClimateWorks Global Intelligence research offers a glimpse into the unique datasets that we combine with our in-house expertise and global partnerships, to provide insights and guidance on top areas for climate action and philanthropic strategies.
We sat down with Surabi Menon, Vice President of Global Intelligence, to learn more about funding trends for climate change mitigation philanthropy and why it is important to track these numbers.
What is important about this brief?
This research, led by Hannah Roeyer, a long-time staff member and now consultant, brings together data on foundation and individual climate change mitigation funding to explore giving across a set of sectors and regions. It offers many important findings for those focused on climate philanthropy. First, it provides an estimate of total philanthropic funding for climate change mitigation. It dives deep into foundation funding and shows exactly where that funding is going, both by geography and sector. It also highlights some ways of thinking about gaps and opportunities that philanthropists might consider as they look to direct their giving to address the climate crisis most effectively.
What are some of the key funding trends in climate change mitigation philanthropy?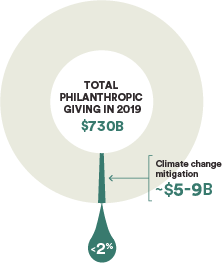 Overall, we were encouraged to find that total foundation funding to climate change mitigation, one component of the climate mitigation philanthropy picture, nearly doubled since 2015.
In 2019, philanthropic funding to climate change mitigation across both foundations and individuals was $5 billion to $9 billion. However, this represents less than 2% of total philanthropic giving around the world — across individuals and foundations.
We also identified several sectors where funding levels do not match the need. For example, our brief shows that the industrial and building sectors collectively receive less than 8% of foundation funding while accounting for 26% of direct emissions reductions needed to meet international climate goals under the Paris Agreement. Therefore, those are great areas for philanthropic funders to consider filling the gap as they develop investment strategies.
What is the ideal amount of funding for climate change mitigation?
Trillions of dollars in investment are needed from public and private sectors, and philanthropic investments can help create the leverage needed to do it. While there is not a specific goal for philanthropic funding needed to fight climate change, we know significantly more philanthropic resources can be deployed effectively over the coming years to tackle this existential threat.
How can this information be used to inform broader climate change mitigation efforts?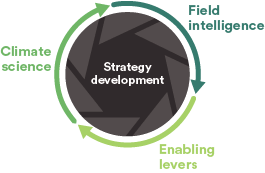 The Funding Trends report is designed as a companion piece to our recent Global Intelligence report, Achieving global climate goals by 2050. Published last month, this report highlights seven sectors across 10 geographies where the world can target large-scale emissions reduction opportunities to meet global climate goals. Our intent with both of these reports is to provide the absolute best research and analysis to enable climate funders to optimize their giving and most effectively combat the climate crisis.
Identifying gaps in funding enables philanthropy to support critical areas of need. For instance, while the world is trying to achieve net-zero emissions by mid-century, total emissions across Africa are projected to increase by over 2.5 times by 2050, based on a reference scenario. Although climate adaptation will continue to be a focus across the continent, these projections indicate that mitigation is increasingly important. However, over the past five years, Africa has received less than 4% of global foundation funding for climate change mitigation. Climate philanthropy can catalyze financing to support mitigation efforts that can boost economic and social development. There are many options available that are addressed in the report.
What inspired ClimateWorks to develop this report?
We regularly provide this data to our partners to help inform their investment strategies. We're excited to make this data more broadly available to increase awareness of climate change mitigation gaps and opportunities. We also want to highlight the important role of philanthropy in catalyzing change. We are inspired by the many climate commitments being made by new donors. We look forward to engaging with new partners as we update and share these numbers on an annual basis going forth.