Published September 14, 2021
Our modern world is characterized by two central, human-driven forces: the digital age and climate change.
Digital innovations have influenced the lives of humans around the globe, pushing multiple levers of systems change. For example, the digital age has altered the global economy and labor markets, societal norms, flows of goods and information, and even our individual mindsets, influencing what we buy, who we listen to, and what we believe. Meanwhile, the impacts of climate change are increasingly affecting more of the global population, with continuing sea level rise, glacial retreat, increased forest fires, negative impacts on crop yields, changes to the frequency and intensity of extreme weather events, and more. Further, dated governance structures and institutions are unable to adequately address the scale and complexity of the challenges climate change poses.
The opportunity to leverage digital age transformations for climate action
This digital age has the potential to unleash some of the large-scale societal transformations necessary to achieve the Paris Agreement on Climate Change and other global sustainability goals. However, this will only be possible if there is a concerted effort to overcome the risks associated with digital age transformations, which include the ecological footprint of digital technologies and threats to privacy and human dignity, and to encourage new forms of collaboration so that the digital disruptions underway help to advance a sustainable, climate-safe, and equitable world.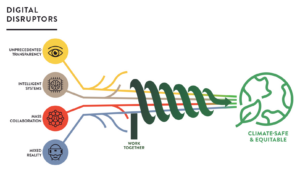 Overcoming key challenges to cross-sector cooperation
There is still a considerable disconnect between communities working with digital technologies such as artificial intelligence (AI) and machine learning, climate data and governance, and philanthropy, who each have different perceptions of the risks and opportunities associated with leveraging digital age transformations for the climate. For example, AI is viewed more positively in the investment and finance sector, where AI projects have a relatively high success rate, as opposed to most other sectors, where 85% of AI projects actually fail. There is also a demonstrated lack of trust in AI and other digital technologies among the general public, including many within climate communities. Given predictions that digital technologies such as AI will continue to be used primarily to increase corporate profits and social control, this distrust is likely to continue. This tension may explain the lack of funding directed toward deploying digital technologies to accelerate climate action.
In order to leverage digital age transformations to tackle systemic crises such as climate change, we must develop planetary intelligence. This will include "collecting information at a planetary scale and using that information to understand the Earth as one interconnected social-biophysical system, assessing and predicting implications of changes for people and nature, providing transparency and accountability in environmental management, and shaping markets and policies to achieve sustainable outcomes." Both the planetary intelligence model, as well as other recent reflections on sustainability in the digital age, demonstrate the importance of trust and inclusion as critical foundations to implementing systems change that will help humanity accelerate progress toward sustainability and equity goals.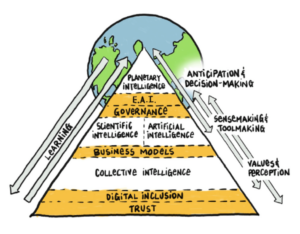 The role of philanthropy
Building the necessary foundation of trust and inclusion will require engaging more fully across communities, sectors, and geographies. Philanthropy can play a key role in this space in many ways, including:
Investing in relationship-building and collective intelligence with the explicit goal of identifying universal, inclusive, and digitally empowered solutions to climate governance challenges.
Incentivizing partnerships that enrich the public commons with high-quality data that supports all stakeholders in harnessing the power of digital technologies to accelerate environmental sustainability.
De-risking opportunities for other types of investment in digitally empowered climate change mitigation initiatives. For example, venture capital and impact investors can open up opportunities for innovative business models that leverage digital technologies.
The Re-imagining Climate Governance in the Digital Age project
Sustainability in the Digital Age (SDA), Future Earth, and ClimateWorks Foundation are partnering to explore this space through the Re-imagining Climate Governance in the Digital Age project. Through this project, we will develop a strategic framework and public report to help guide philanthropic investments and illustrate how philanthropy can support actors leveraging the digital sector to transform climate governance.
During the first phase of the project in the first half of 2021, we compiled a database of nearly 200 digitally enabled climate change mitigation initiatives in order to characterize the rapidly evolving landscape. These were categorized into four main levers for influencing climate governance: data mobilization to strengthen decision-making, digital optimization of existing strategies, incentivizing and automating behavioral change, and enhancing participation and empowerment. This database will be published in late 2021 alongside the strategic framework and report.
In the second half of 2021, we are engaging a diverse group of thought leaders. Several key themes have emerged during recent convenings:
An emphasis on building relationships and trust as well as the need to explore new mechanisms for connecting bottom-up and top-down collaboration across all sectors,
The need to identify funding and other gaps that are preventing society from leveraging digital technologies to accelerate climate action, and
The importance of identifying key considerations for climate philanthropy to effectively engage with and invest at the nexus of digital innovation and climate action.
The ultimate goal of this work is to help grow and foster much-needed relationships and trust between disparate actors at the global nexus of digital innovation and environmental sustainability. Contact us to learn more about Re-imagining Climate Governance in the Digital Age, or reach out to Nilushi Kumarasinghe (nilushi.kumarasinghe@futureearth.org).