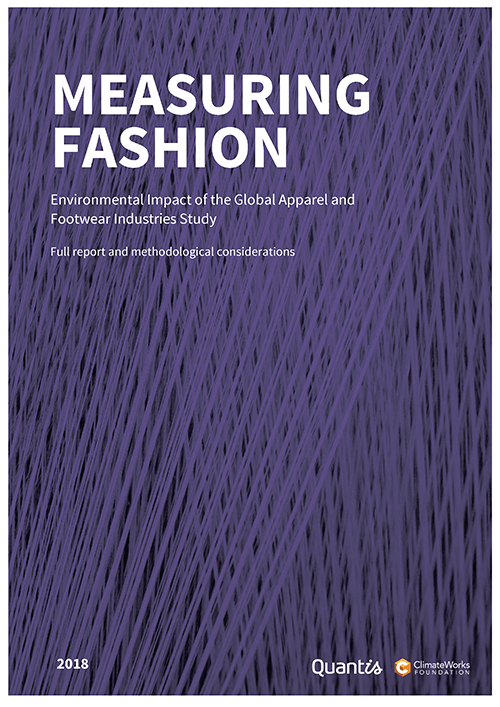 Measuring Fashion: Environmental Impact of the Global Apparel and Footwear Industries Study
In the face of climate change, resource depletion, and shifting consumer expectations, fashion brands are increasingly coming under pressure to drive meaningful change and to back up their sustainability stories with facts. To encourage a more resilient future for fashion, ClimateWorks Foundation and Quantis performed a study looking at the entire value chain of apparel and footwear.
The report highlights the key findings of the first in-depth, science-based study investigating the environmental impacts of the global apparel and footwear industries, and delivers guidance and insights for brands and businesses committed to making changes to reduce their impacts.
"This unique study provides robust data on the environmental impacts of each step of the apparel supply chain. It directs focus to areas that matter the most so you don't waste time on the small stuff. It empowers companies to step up and set ambitious, achievable science-based targets to reduce their climate impact."
– Linda Greer, Senior Scientist, National Resource Defense Council
In-depth look at 5 key indicators
This study aims to put brands on the right path by providing a credible and current snapshot of the industries' environmental hotspots across the value chain. These metrics will help guide decision-making at companies committed to setting truly sustainable goals, to making science-driven decisions, helping implement effective and meaningful actions. Understanding environmental impacts, particularly on climate, is also necessary for fashion brands committing to the Science-Based Targets initiative to get their business aligned with the global objective to limit warming to 2° C.
Measuring Fashion is 1) based on industry specific impact data from the World Apparel & Footwear Lifecycle Assessment Database, which makes it comprehensive, robust, and up-to-date; 2) uses a multi-indicator approach to assess five different impact areas – Climate Change, Resources, Freshwater Withdrawal, Ecosystem Quality and Human Health – to ensure a balanced assessment on multiple fronts; and 3) provides an outlook of the evolution of impacts across time (both past and future) and connects this with specific levers for change across the value chain.