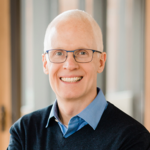 Chris DeCardy brings over 25 years of executive leadership and board experience in philanthropy to his role as acting CEO of ClimateWorks Foundation. While new to ClimateWorks in this capacity, Chris has a long history with the foundation as a funder and strategic advisor. He will hold this position until a permanent CEO is hired through a comprehensive global search.
Previously, Chris was vice president and director of programs for the David and Lucile Packard Foundation, one of the largest U.S. grantmaking foundations. Working with the Board, CEO, and staff, he guided grantmaking strategy development and assessment, including the foundation's $1 billion, 20-year commitment to climate change mitigation. He managed the integration of evaluation, communications, and capacity-building departments to deepen program impact, and supported cross-program teams in advancing diversity and equity commitments.
With a background in strategic communications and network advocacy, Chris helped launch and then ran Environmental Media Services, now Resource Media, an environmental communications non-profit credited with improving and expanding media coverage of international environmental issues.
Chris has an extensive track record helping grow the impact of climate philanthropy including his role as an early advocate for creating the Climate Leadership Initiative, where he serves as a board member. Chris has also served on the boards of several non-profit organizations, including Northern California Grantmakers. He is active in his local community, co-founding the community climate network, MenloSpark, and serves on the Planning Commission for Menlo Park, Calif.