[et_pb_section fb_built="1″ admin_label="Hero" _builder_version="4.0.9″][et_pb_row column_structure="3_5,2_5″ use_custom_gutter="on" gutter_width="1″ make_equal="on" module_class=" et_pb_row_fullwidth" _builder_version="4.0.9″ background_color="rgba(134,213,239,0.11)" background_image="https://www.climateworks.org/wp-content/uploads/2020/01/circle-background-pattern.png" width="100%" width_tablet="100%" width_phone="" width_last_edited="on|desktop" max_width="100%" max_width_tablet="100%" max_width_phone="" max_width_last_edited="on|desktop" min_height="594px" custom_padding="0px||0px|||" animation_direction="top" make_fullwidth="on"][et_pb_column type="3_5″ _builder_version="3.25″ custom_padding="10%|8%|10%|8%" custom_padding__hover="|||"][et_pb_text _builder_version="4.0.9″ text_font="Montserrat|500|on||||||" text_text_color="#353740″ text_font_size="16px" text_letter_spacing="3px" header_font="||||||||" custom_margin="100px||45px|20px|false|false" animation_direction="bottom" locked="off"]
GETTING TO NEUTRAL
[/et_pb_text][et_pb_text _builder_version="4.0.9″ header_line_height="1.4em" custom_margin="-38px|||20px|false|false"]
Options for Negative Carbon Emissions in California
[/et_pb_text][et_pb_text _builder_version="4.0.9″ text_line_height="1.8em" custom_margin="||20px|20px|false|false" inline_fonts="Montserrat"]
To achieve its goal of being carbon-neutral by 2045, California has an opportunity to lead the world in developing and investing in solutions to remove carbon dioxide from the atmosphere.
[/et_pb_text][et_pb_text admin_label="Text" _builder_version="4.0.9″ custom_margin="|||20px|false|false"]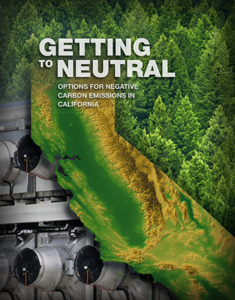 In a first-of-its-kind study that will be published on January 30, 2020, Lawrence Livermore National Laboratory maps where negative emissions approaches hold the most potential to help California achieve its ambitious climate goals. To reach carbon neutrality, California needs to eliminate by 2045, all carbon dioxide (CO2) emissions and also remove emissions already in the air, hence the expression, "negative emissions". While a growing number of jurisdictions around the world have adopted carbon neutrality pledges, this is the first report to identify where to find carbon removal opportunities. The report finds that:
California's great natural and working lands hold vast potential to remove carbon. We can convert waste from forests treated to reduce fire and from fields into fuels and safely store CO2 deep underground where rocks absorb it. We also can remove CO2 from the air with land-saving CO2 filters that mimic the functions trees perform.
Plants, trees, and filters can help California achieve negative emissions on the order of 125 million metric tons of carbon dioxide per year by 2045.
The technologies needed to convert plant and tree waste into fuels and filter it from the air are relatively mature, but we need to learn how to rapidly deploy and run them to rapidly drive down costs.
Carbon removal can help to make Californians safer from devastating fire, healthier from cleaner air and more abundant water that healthy forests can bring, and more prosperous by creating new jobs, zero carbon fuels, and building materials for badly-needed new homes.
The importance of achieving this level of carbon removal stretches far beyond California: the State could once again pioneer practices, technologies, and policies that are required worldwide in order to meet the global climate challenge.
Getting to Neutral: Options for Negative Carbon Emissions in California was funded by the Livermore Lab Foundation through support from the ClimateWorks Foundation.
[/et_pb_text][et_pb_divider show_divider="off" _builder_version="4.0.9″][/et_pb_divider][/et_pb_column][et_pb_column type="2_5″ _builder_version="3.25″ custom_padding="10%|8%|10%|8%" custom_padding__hover="|||"][et_pb_signup mailchimp_list="ClimateWorks|868ab6161e" use_custom_fields="on" success_message="Thank you. Stay tuned for more information. " title="Learn more" button_text="Submit" description="
Join the report's authors and sponsors at the launch event in Sacramento on January 30. Complete the form below to receive more information.
" admin_label="Email Optin" _builder_version="4.0.9″ background_color="#006DA1″ custom_button="on" button_font="Arial|||on|||||" button_use_icon="off" custom_margin="118px||||false|false"][et_pb_signup_custom_field field_id="5″ field_title="Organization" field_type="input" _builder_version="4.0.9″ predefined_field="5″][/et_pb_signup_custom_field][/et_pb_signup][et_pb_divider show_divider="off" _builder_version="4.0.9″][/et_pb_divider][et_pb_text _builder_version="4.0.9″ hover_enabled="0″]
[/et_pb_text][/et_pb_column][/et_pb_row][/et_pb_section]